How to Create a Company in SAP | Define Company in SAP FICO - SAP Training Tutorials
The following tutorial guides you how to define or create a company in SAP step by step with screen shots. Let us discuss briefly about company.
About Company in SAP:- Company is the organizational unit for which individual financial statements can be drawn according to the relevant commercial law. A company can comprise of one or more company codes. A Company has local currencies in which its transactions are recorded. All company codes within a company must use the same transaction Chart of accounts and the same Fiscal Year. Creation of company in sap is optional.
Path to Define Company in SAP :-
SAP IMG Path: – SPRO –> Implementation Guide for R/3 Customizing (IMG) –> Enterprise Structure –> Definition –> Financial Accounting –> Define Company
Transaction code to "Define Company in SAP" :- OX15
Steps for creation of a Company: –
Step 1 :- Enter Transaction Code SPRO in the commend field and press enter on the Keyboard

Step 2 :- Next Customizing execute project screen select SAP Reference IMG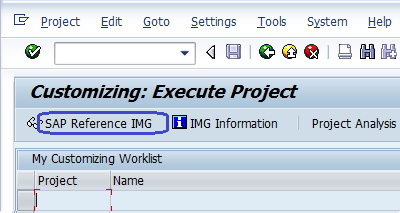 Step 3 :- After Selecting SAP Reference IMG, a new screen IMG Path will be displayed. Select
Define company execute icon for creating a company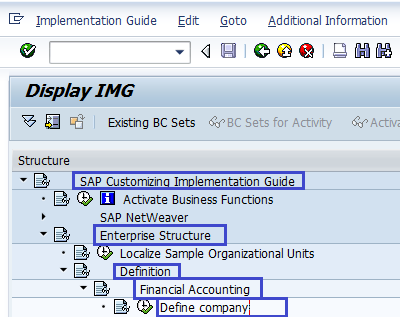 Next Screen will be displayed after selecting the define company execute icon

Step 4:– Now Select New entries icon to create a new company and enter the company details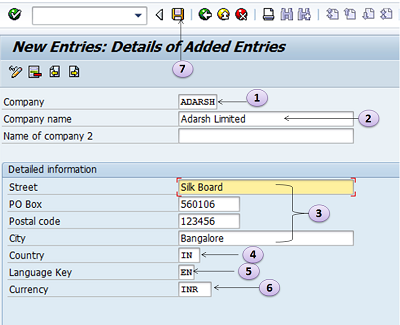 The following details are to be entered for creating a new company
Enter 6 character alphanumeric code key that represents the group of company

Enter name of your company.

In the Detailed information update the address – Street name, PO Box#, Postal code, City.

Enter Country Code of the company

Enter language key

Enter local currency for the company (also known as Company code currency)

Click on Save icon or CTRL+S after updating the required information,

How to Create a Company in SAP | Define Company in SAP FICO - SAP Training Tutorials

The following tutorial guides you how to define or create a company in SAP step by step with screen shots. Let us discuss briefly about company.


About Company in SAP:- Company is the organizational unit for which individual financial statements can be drawn according to the relevant commercial law. A company can comprise of one or more company codes. A Company has local currencies in which its transactions are recorded. All company codes within a company must use the same transaction Chart of accounts and the same Fiscal Year. Creation of company in sap is optional.
Path to Define Company in SAP :-
SAP IMG Path: – SPRO –> Implementation Guide for R/3 Customizing (IMG) –> Enterprise Structure –> Definition –> Financial Accounting –> Define Company
Transaction code to "Define Company in SAP" :- OX15


Steps for creation of a Company: –

Step 1 :- Enter Transaction Code SPRO in the commend field and press enter on the Keyboard


Step 2 :- Next Customizing execute project screen select SAP Reference IMG


Step 3 :- After Selecting SAP Reference IMG, a new screen IMG Path will be displayed.
Select Define company execute icon for creating a company

Next Screen will be displayed after selecting the define company execute icon


Step 4:– Now Select New entries icon to create a new company and enter the company details


The following details are to be entered for creating a new company

Enter 6 character alphanumeric code key that represents the group of company

Enter name of your company.

In the Detailed information update the address – Street name, PO Box#, Postal code, City.

Enter Country Code of the company

Enter language key

Enter local currency for the company (also known as Company code currency)

Click on Save icon or CTRL+S after updating the required information